Firm History
Day Rettig Martin, P.C. prides itself in providing quality legal services. Our firm traces its roots to Charles Johnson Deacon. Deacon began his legal career by preparing for the bar in the office and under the direction of Judge Isaac Cook and Judge N. M. Hubbard. After gaining his admission to the bar in 1873, Deacon practiced with Judge Hubbard until 1879. Attorney James William Good joined Deacon in the practice of law in Cedar Rapids, Iowa in 1896. In 1908, Harrison E. Spangler and Amor Sargent joined the firm, which became known as Deacon, Good, Sargent and Spangler.
Deacon was a prominent figure in the Iowa legal community and in Linn County, generally. He was a trustee of Coe College and a director of the American Trust & Savings Bank. Good was elected to Congress and for a short time in 1929, served as the Secretary of War under President Herbert Hoover. Spangler was the chairman of the State of Iowa Republican Party and the National Republican Party. He was responsible for organizing the Mackinac Conference of 1943 and in moving the Linn County Courthouse from Marion to Cedar Rapids in the 1930's.
Donald T. Hines joined the firm in the late 1920's. In addition to his law practice, Hines piloted the Cedar Rapids Airport from a cornfield facility to the regional operation it is today. He was an original member and longtime chairman of the airport commission. Under his guidance, the airport grew from little more than a dream to a multi-million dollar operation. Over the years the airport became his monument.
The firm continued to evolve when Ernest F. Pence joined the firm in the 1950's and it became known as Sargent, Spangler, Hines, and Pence. Further evolution came with the addition of Joseph E. Day and James M. Powers in the late 1960's and Mark H. Rettig in 1976. The firm became a professional corporation known as Hines, Pence, Day and Powers, P.C. in 1992. With the addition of Joseph A. Peiffer in 2000, the firm became known as Day Rettig Peiffer, P.C. Now, with the recent departure of Joseph A. Peiffer, the firm is known as Day Rettig Martin, P.C. The firm is located at 150 First Avenue NE, Suite 415, Cedar Rapids, Iowa.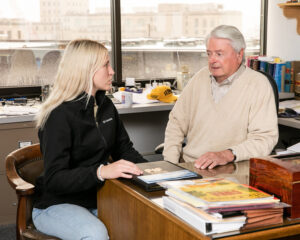 Firm Attorneys
Joseph E. Day, Mark H. Rettig, and Ronald C. Martin are the firm's shareholders. Our attorneys and staff members have worked on farms, come from trade union families, have diverse backgrounds, and possess a deep knowledge and understanding of business, litigation, and the law. We have a knowledgeable and compassionate staff to assist in meeting our client's needs. We pride ourselves in the way we treat our clients and protect their rights.
Practice Areas
Our attorneys offer legal services in a wide range of areas, including, but not limited to the following:
Multi-Employer Retirement and Pension Plans
Multi-Employer Health and Welfare Plans
Joint Apprenticeship Training Programs
Other ERISA related matters including collections and the drafting and qualification of Qualified Domestic Relations Orders
Labor and Employment law
Agricultural law
Financial restructuring
Business, including the creation of corporations and limited liability companies
Mergers and acquisitions
Business and Family Farm Bankruptcy, Chapter 11 and 12
Consumer credit and debt matters
Real estate sales and acquisitions
Family law and domestic relations matters
Estate planning, powers of attorney, and probate
Civil litigation and appeals
Our attorneys stand ready to assist you with all of your legal matters. Contact us at our office located at 150 First Avenue NE Suite 415, Cedar Rapids, Iowa or by telephone 319-365-0437, FAX 319-365-5866, or by mail at Day Rettig Martin, P.C., P.O. Box 2877, Cedar Rapids, IA 52406. You can also reach any of our attorneys by email as noted in their profile page.