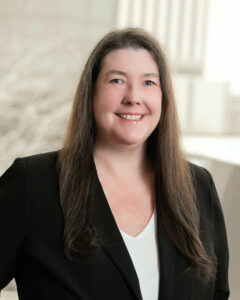 Contact Information
150 First Avenue NE, Suite 415, Cedar Rapids, IA 52401
P.O. Box 2877, Cedar Rapids, IA 52406
Areas of Practice
Civil Litigation
Bankruptcy & Insolvency
Paula Roby is currently a junior shareholder of Day Rettig Martin, P.C. Paula graduated from the University of Iowa College of Law in 1999 With Distinction. She is a 1996 graduate of the University of Northern Iowa with a BA in Religion and Philosophy.
Paula began her legal career as an intern with the Elderkin & Pirnie Law Firm of Cedar Rapids, Iowa. Upon obtaining her law degree and Iowa license, she returned to the Elderkin & Pirnie Law Firm where she practiced for 22 years. During her time at Elderkin & Pirnie, Paula's practice included civil litigation and bankruptcy. Notably, she assisted in the representation of the Chapter 11 Trustee in the Agriprocessors bankruptcy case.
Paula briefly worked with the Bradshaw Firm in Des Moines where she represented clients in bankruptcy and in litigation matters. In October 2022, Paula returned full-time to Cedar Rapids and joined Day Rettig Martin, P.C. where she works on bankruptcy cases and civil litigation.
Bar Admissions
Iowa Bar, 1999
U.S. District Court for the Northern District of Iowa
U.S. District Court for the Southern District of Iowa
Bankruptcy Court for the Northern District of Iowa
Bankruptcy Court for the Northern District of Iowa
U.S. Court of Appeals for the Eighth Circuit
Professional & Bar Association Memberships:
Linn County Bar Association
Iowa State Bar Association
Iowa Academy of Lawyers, Fellow
Rated by Super Lawyers
loading …