On May 5, 2017, Attorney Aaron J. Blair graduated from the Adult Leadership for Five Seasons Class of 2017.
Leadership for Five Seasons (LFS) prepares individuals who have demonstrated a capacity for leadership, who have exhibited interest and commitment to the community, and who have potential for exercising substantial leadership in the future. The LFS Class of 2017 marks the 34th anniversary of the program, which is the flagship leadership series conducted by the Cedar Rapids Metro Economic Alliance.
As a part of the program, each class conducts a service project to enhance the community. The 2017 class raised $15,000.00 to install three community trails:
Van Buren Elementary – Apple tree orchard and Born Learning Trail with painted sidewalk.
Redmond Park – Born Learning Trail with painted sidewalk and new benches.
Taylor Elementary – Installed concrete sidewalk and new benches, Apple tree orchard, Born Learning Trail with painted sidewalk, and painted a large map of the United States.
Born Learning Trails include a series of signs and corresponding sidewalk paintings with educational games and interactions for young children and their caregivers to make a positive impact on early childhood learning.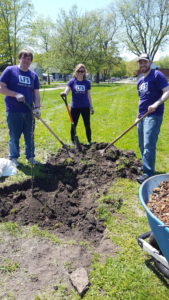 Aaron enjoys giving back to the community and hopes that the Born Learning Trails will help to develop the next generation of leaders in Cedar Rapids.